What to put in a Toiletry Basket for your Wedding
This might seem like a really simple thing, I mean, what all do you really need in there? You're right, it is simple. But sometimes when you're in the middle of all the business that is Wedding Planning the thought of putting together a list of what to buy for a toiletry basket is the last thing you want to do. Don't worry, we hear you girl. Here's a detail list of what we would put in a toiletry basket (from 120+ weddings of experience too).
For the Ladies:
Mints (individually wrapped)
Tissues
Band aids (Make sure you get a few sizes here)
Aspirin (individually packaged)
Floss picks
Stain-removal stick
Spray-on deodorant
Antacids (Tums)
Hair ties
Antibacterial gel
Bobby pins
Hair spray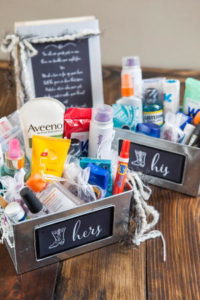 For the Men:
Mints (individually wrapped)
Aspirin (individually packaged)
Floss picks (or regular floss)
Spray-on deodorant
Antacids (Tums)
Gum (they'll thank you!)
Antibacterial gel

Source
Some extra things to consider:
Lint roller
Bug spray (If you're having an outdoor wedding)
Cough drops (ideal for winter weddings)
Safety pins
Body lotion (unscented)
Tampons/pads (10 or so of each – not too many)
Two-sided fabric tape
Make-up remover wipes (to clean up that eye liner)
Earring backs (rubber ones)
Nail glue
Eyelash glue (A great idea for your wedding day Emergancy Kit too)
Clear nail polish (for runs in tights)
Eye drops/contact solution
Blotting sheets
Mini bottled water
Mini sawing kit
Nail File
Blush
Bronze eye shadow (it's a nice neutral colour for all)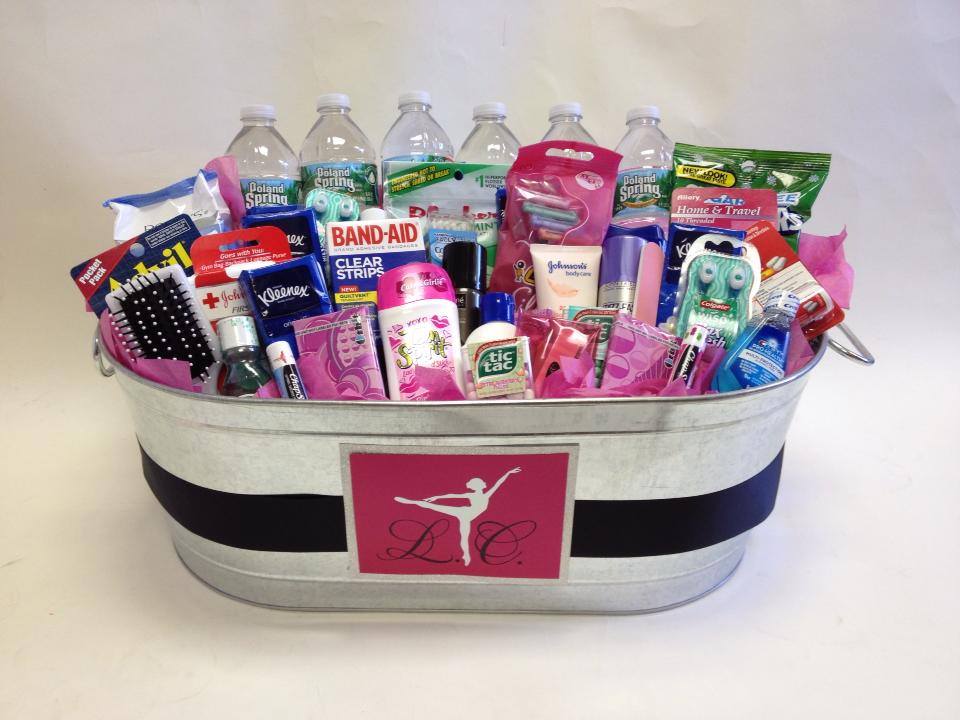 Things NOT to get:
Body spray or perfume (There are enough people with scent allergies that it's best to stay clear of this)
Anything with too heavy of a scent (Candles, deodorants, etc)
Medications of any kind (You don't want to take on this liability and also if someone requires taking something they will bring their own prescription supply)
Mini liquors

Happy Planning!