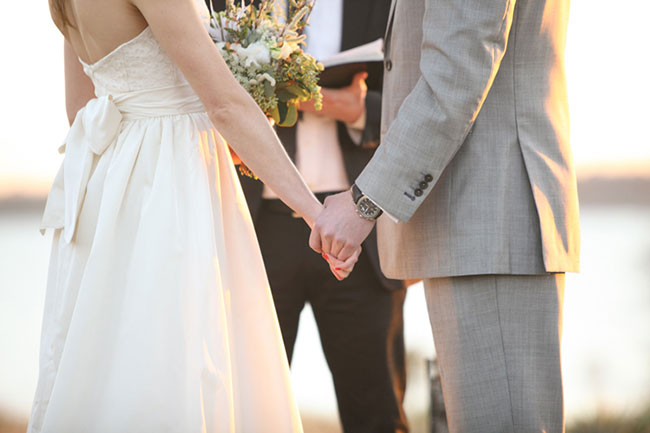 It is become more common for couples to write non-traditional wedding vows to customize, personalize, and to make them more meaningful and all their own (after all, we're not one the same!).
Some couples will write poems or sing a serenading song or create some form of carving, painting or sculpture. Write it in icing on a decadent desert, or even coordinate a dance to show their love for their soon to be spouse.
Obviously you don't need to go overboard but be sure to add your very own personal touch so that it means something to you. And if poems are not your thing, that's perfectly ok! Your vows don't need to rhyme, they just need to be from the heart.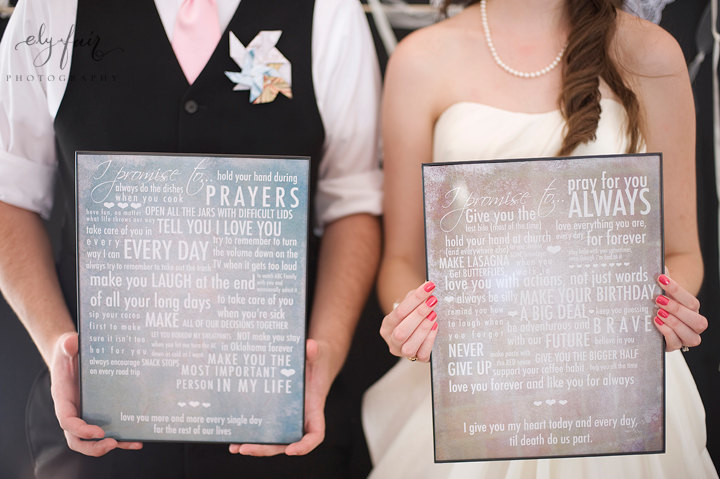 feature Image: Source / Source
Here are some ideas we have come up with to get the creative juices flowing so you can create the perfect wedding vows for you:
1) Try pulling words or verses from your favourite songs as a couple
2) Incorporate things you and your partner say to each other regularly
3) Mention things your partner does for you that are thoughtful or makes you feel special
4) Use an inside joke, just as long as it won't be embarrassing
5) Perhaps quote your/their favourite movies, books or poems
6) Write them into your very own song created just for them
7) Sculpt them into a piece of art created by you.
8) Paint them into a painting
9) Express your vows through dance
10) Say things that have meaning to you as a couple
11) Use real life situations from your relationship. For example: "I vow to love and cherish you, and to always PVR your favourite show in case you won't be home in time to watch it"
12) Always speak from the heart
13) One suggestion is not to say things just because they sound nice. Be sure your vows are relevant to you and have actual meaning in your relationship. Remember – these are your vows to the one you love.
When creating your vows, ask yourself:
What does your partner mean to you?
How did you meet?
How do they make you feel?
What makes them special to you?
What things do they do to make you feel the way no one else makes you feel?
What makes you look at them and think "you are the one for me?"
The rest should come naturally.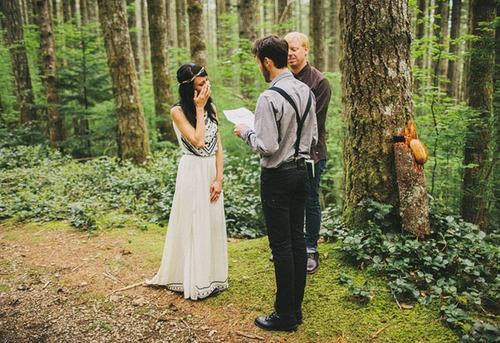 Here are some sample wedding vows we've collected and love (and hope you do too):
"I promise to always love you. As sure as the sun will rise tomorrow. I will always love you. Your love is inspiring to me every day. You are the kindest, most sincere person I know. I promise to never take your love for granted. I promise to always respect you. I promise to kill any insects that wander into our home. I am so excited to spend the rest of my life with you. Everything I am and have is yours. I love you! Will you be my wife?"
"I promise to always love you. As sure as the stars shine at night, I will always love you. Your love is like water. Formless. Shapeless. It is peaceful, strong and always just what I need. You are my heart. I promise to honor you. I promise to support you. And I promise that if there is ever a zombie apocalypse that you can count on my axe! I am so excited to spend the rest of my life with you. Everything I am and have is yours. I love you! Will you be my husband?"     – Off Beat Bride
"Happiness in marriage is not something that just happens. A good marriage must be created. In the Art of Marriage, the little things are the big things. It is never being too old to hold hands. It is remembering to say 'I love you' at least once a day. It is never going to sleep angry. It is at no time taking the other for granted; the courtship should not end with the honeymoon; it should continue through all the years. It is having a mutual sense of values and common objectives. It is standing together facing the world. It is forming a circle of love that gathers in the whole family. It is doing things for each other, not in the attitude of duty or sacrifice, but in the spirit of joy. It is speaking words of appreciation and demonstrating gratitude in thoughtful ways. It is not expecting the husband to wear a halo or the wife to have the wings of an angel. It is not looking for perfection in each other. It is cultivating flexibility, patience, understanding and a sense of humor. It is having the capacity to forgive and forget. It is giving each other an atmosphere in which each can grow. It is finding rooms for things of the spirit. It is a common search for the good and the beautiful. It is establishing a relationship in which the independence is equal, dependence is mutual and obligation is reciprocal. It is not only marrying the right partner, it is being the right partner". -Paul Newman to JoAnne Woodward on their wedding day (Source)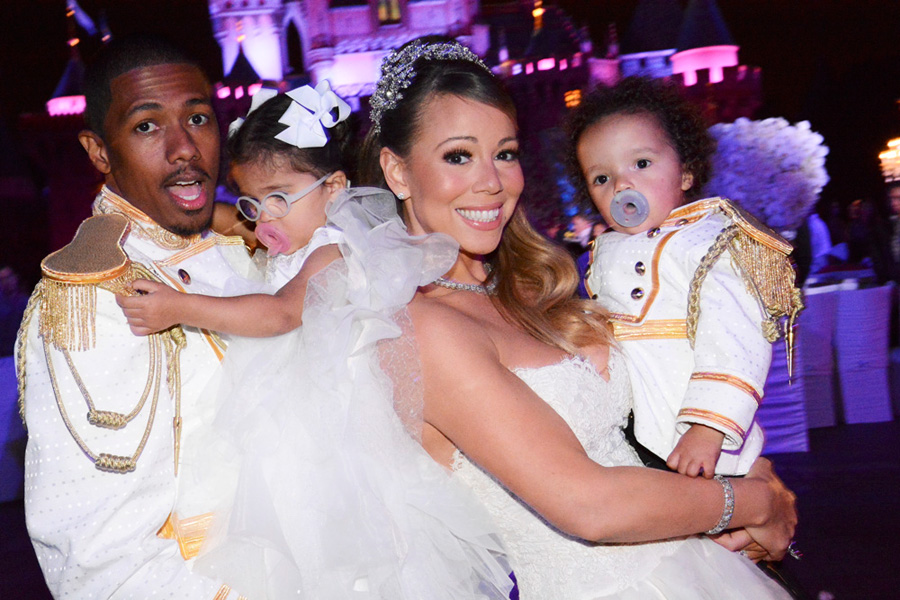 Is Disney your thing?
We know, but they have great writers, and there are some great quotes you could include:
"I'd rather die tomorrow than live a hundred years without knowing you."  (Pocahontas)
"If you live to be a hundred, I want to live to be a hundred minus one day, so I never have to live without you." (Winnie the Pooh)
"If there ever comes a day when we can't be together, keep me in your heart. I'll stay there forever." (Bolt)
"I made a wish upon a star. I turned around and there you were." (Frozen)
"Some people are worth melting for." (Frozen)
Want more? Here are some other great resources we found helpful:
Best wedding vows you've never heard
What The Knot has to say about vows
7 ways to say your vows – from Huffington Post
A Practical Wedding's take on vows
More? Ok! Check out this, this, this, this, and this site too!
Happy writing!!
**This is a sample vow that I considered using but I think it could be a bit long, so I will leave it as your call. I liked some things about it but I'm not sure if it fits.
(Ok, we just had to share one more!)
Some vows a lovely couple shared on A Practical Wedding: 
"Our vows:
Me:
Chicken, today, we get to say our promises out loud, in front of our friends and family, and maybe a few curious strangers. But before we ever made it here, we knew we were in this for the long haul. We created a home together, adopted a trio of feisty kitties, and forged our tiny family. We chose each other to embark on the journey of marriage, and all our future adventures.
I choose you because:
Your creativity and talent inspire me. I've never met another person who can write an off-the-cuff song about paying the electric bill, or spend 45 minutes on a tall tale about pasta and pesto.
You make me gourmet meals on a regular basis, and expect nothing but a hand washing the dishes in return.
You have a kind soul.
You spin the tallest tales, but, in real life, you're always honest with me.
You encourage my talents, remind me of my worth, and never let me think poorly of myself.
You give me the freedom to be silly, and you never judge me for random songs or sporadic dance moves. I love that I can pepper my speech with near nonsense words, and you still know exactly what I mean every time.
You offer me a kindness and security I didn't know was possible and never thought I needed. With you at my side, I know we can accomplish anything.
As a foundation for our future together:
I promise to love you, unconditionally, without hesitation, on your best day. And I promise to love you even more on your worst day.
I promise to laugh and dance with you in times of joy and comfort you in times of sorrow.
I promise to treat you as an equal partner. I will share in your dreams and challenge you to reach your greatest potential.
I promise to love, respect, and trust you, and give you the best of myself.
I will fight for our relationship when I need to, and I will never try to hurt your just because I'm angry or tired. I will always work to be worth of your love, and accept that neither of us is perfect.
I promise wherever you go, we will go together, where we will build a life far greater than we could ever imagine on our own.
I will trust you, even when we veer from gps directions, schedules, itineraries, and to-do lists.
I promise you will always be my family, and we will always be a team.
I will stand by you for better and worse, in sickness and health, in sunny days and hurricanes.
You are my best friend, my shelter from the storm, my partner in mischief, and, from this day forward, my husband. I will love and respect you always. With these words, I marry you, and bind my life to yours.
Him:
Sarah, over the last two years and some change, we have built a relationship, built a home, built a company, and adopted three cats. We can now add building a marriage to the list. Today, we exchange our vows and make our union official, joined by our friends and family.
I choose to marry you because:
You support and encourage even my most eccentric ideas. You allow and inspire me to be my most creative, and you always make my ideas better.
You are compassionate and giving, and I have never met anyone as sensitive and warm as you. You make me want to volunteer at soup kitchens, work at animal shelters, and start a community garden.
I can always count on your to be in my corner.
With you in my life, I feel like I can write comic books, produce spec commercials, direct movies, and conquer the world.
I'm promising:
To always be there for you, emotionally, physically, and spiritually.
I'm promising to be your advocate, your confidant, and your partner in all our future exploits.
I promise to love you, as I always have, unconditionally, for the rest of our days.
I promise to respect and honor you in every way I know how, and learn new ways as they come.
You are my best friend, my creative partner, my ally, my companion, and my wife! I will always love, respect, and honor you, and our life together. And this is all a long way of saying, "Hey! We're married!"